We provide high-quality semi-pneumatic casters.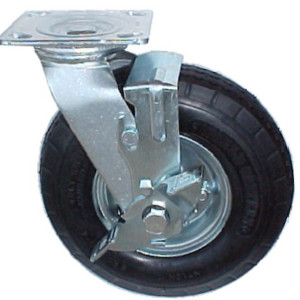 Are you looking for semi-pneumatic casters for your application? Stop dealing with flats and cart around higher capacities with our high-quality semi-pneumatic casters. These casters are commonly used for nursery and greenhouse carts, beverage delivery trucks, ground maintenance carts, and carts used in rough terrain environments. They are also used for carts that carry sensitive computer equipment that requires a smooth, cushioned, and quiet ride.
The capacity for our semi-pneumatic casters ranges from 250 to 850 pounds, and dimensions for the top plates are 4"x4.5" and 4.5"x6.24" inches. These casters come with wheels ranging from 2.75" to 3.5" inches in width.
We ship our semi-pneumatic casters throughout the U.S. and promise fast shipping and delivery times. We also source our semi-pneumatic casters from some of the best manufacturers in the industry for the best possible results for any application. Place an order with us and you will quickly realize why so many organizations prefer us for semi-pneumatic casters and other types of casters. Our goal is to exceed expectations, and we do this with our high-quality caster options, fast shipping times, and great customer service.
We have over 25 years of experience providing our customers with quality semi-pneumatic casters and many other types of in-demand industrial casters and wheels. To learn more about the options in our selection or to find out more about the best applications for semi-pneumatic casters, contact us at Heavy Duty Casters today.
For prices and specifications please view the Price sheet below.