We offer many options for semi-pneumatic wheels.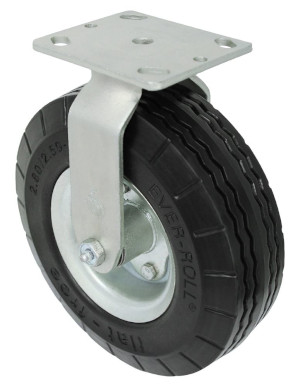 If you operate a trolley or cart that needs to maneuver outside, on gravel, or anywhere but a smooth surface, you want your wheels to be able to take the extra punishment while still delivering smooth and reliable performance. If you are looking for a wheel that can easily move over rough terrain and handle some shock absorption, we highly recommend semi-pneumatic wheels at Heavy Duty Casters.
Semi-pneumatic wheels look very similar to pneumatic wheels on the exterior. However, it is what is inside the semi-pneumatic wheels that makes the difference. These wheels feature a molded, dense rubber that has a hollow core. Because the hollow of the semi-pneumatic wheel does not come under pressure, the outer rubber must be much thicker. Although semi-pneumatic wheels are heavier than traditional pneumatic wheels, they are immune to punctures since there is nothing letting air out that will cause the rubber wheel to eventually go flat.
Are you unsure whether your application requires semi-pneumatic wheels or pneumatic wheels? We are happy to help. We can analyze your application and make recommendations for the type of wheel you need as well as the specific type from our selection of options.
We source our semi-pneumatic wheels from quality manufacturers and ship them throughout the U.S. Contact us today to learn more about semi-pneumatic wheels and whether they are right for your application.
---
At Heavy Duty Casters, we supply semi-pneumatic wheels to facilities throughout the U.S., including those in Charlotte, Chapel Hill, Durham, Raleigh, Winston-Salem, High Point, and Greensboro, North Carolina; Greenville, Spartanburg, and Charleston, South Carolina; Los Angeles, California; Arlington, Texas; Atlanta, Georgia; Chicago, Illinois; and Middletown, Ohio, as well as Wisconsin, Georgia, Florida, and Michigan.